Care to find out more specifically about this study? It was published in the Cambridge Journal Seed Science Research. Check out the Publication Here or Please Contact Me Directly
Project Overview:
As climate change is projected to increase global mean temperature from 2°C to 7°C in the Northern Latitudes it because increasingly concerning for the forest community. Since trees are sessile species (they can't move) they are forced to either adapt locally or migrate to higher latitudes or altitudes. In this study I was interested in assessing the influence of temperature and temperature shifting (changing the temperature +/-) on seed germination. To do so, we decided to assess this influence on a climate sensitive species like Sugar Maple (Acer saccharum).
We hypothesized that seed origin affects the range of temperature for optimal germination, due to local adaptation.
Primary Research Objectives:
(1) identify the optimal incubation temperature across the species range, and for each seed origin.
(2) identify the influence of warmer and cooler temperature shifts to simulate an early or late spring and its associated effects.
(3) identify the potential changes in future seed germination across the range of sugar maple under a series of warming climate scenarios.
Sugar Maple Special Requirements: Sugar Maple seeds require approximately 25-90 days of cool, moist conditions (called stratification) to break dormancy and germinate.
We looked at the influence of stratifying seed for up to 90 days at 9 constant temperatures:
-1°C, 0°C, 1°C, 3°C, 5°C, 7°C, 9°C, 11°C, 13°C
As well as temperature shifting or changing the stratification temperature to either a warmer shift or a cooler shift.
We inspected the influence of seed origin over the entire species range, which was represented by 7 different seed origins: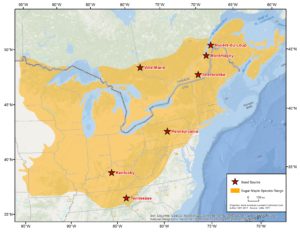 Main Findings:
(1) Sugar maple seed germinates best at constant stratication temperatures of ≤5 °C
(2) Seeds originating at the most northern locations germinated better.
(3) Exposing seeds to cool shifts improved overall germination by 19.5% when compared with constant temperatures.
(4) Exposing seeds to warm shifts diminished over germination by 11.2% when compared with constant temperatures, and 29.3% when compared with cool shifts.